Safety of Beta Product Use
Clinical Trial and/orBeta ProgramLast update: Sep 28th 2022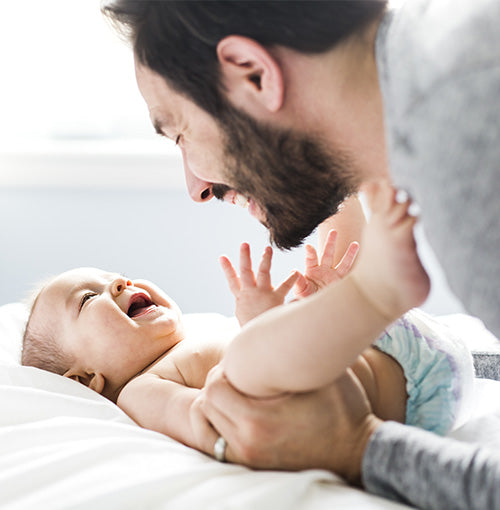 Dear Parents,Welcome to LittleOne.Care.
The product we developed is designed to ensure the baby's well-being and safety as well as to inform the user of any possible emergencies.
This safety chapter is important; therefore, we have simplified the text for a fluent and enjoyable read
Background
LittleOne.Care is developing a platform that includes a baby's wearable device, a cell phone application for parents, and Artificial Intelligence (AI) technology.​Our testing stages include Pilot (stage one), Alpha (stage two), and Clinical Trial or Beta program (stage three). You can participate in the Clinical Trial if you registered at Hadassah hospital. You can participate in the Beta program if you came directly through LittleOne.Care. It is important to note that no difference exists between the products, services, and applications of the two programs.
Participation in the Trials
Participation in the Clinical Trial or the Beta program is for the benefit of parents' feedback, data collection, and performance improvement of the algorithms and AI we develop.
The Box Includes the following items:
One small wearable device for data collection
One grip ring for connecting the device to clothing
One spare grip ring
One docking station
One USB-C connection cable between the docking station and the power source
We are not an authorized manufacturer or distributor of power adapters. For your convenience, we will purchase a regulated power adapter from a known online website (such as Amazon) to be sent directly to your address.
Components and Safety Use
Proper Usage
The device is safe to use as long as it is used according to the instructions detailed in the User Manual. Use not in accordance with the User Manual is at your own risk. In case you have any doubts or misunderstandings, DO NOT USE the product and contact us with any questions, comments, or concerns.
Safety Regulations
Ensuring the safety of users is our top priority. Therefore, we designed and tested this device according to international standards, IEC60601-1(ED.3.1); IEC62133-2; RoHS; FCC (part 15, subpart B).The purpose of these tests is to make sure the product is mechanically safe to use, is made of safe materials, is electronically safe for the users, and interacts with other electronic products.The device was tested in Israel at the SII- the Standard Institution of Israel, and in China at the BCTC testing LAB and SGS LAB.
Development and Production
Our product was developed and designed in Israel and was tested at The Standard Institution of Israel, especially for clinical trial purposes. We manufacture our products using the services of a well-established factory located in Shenzhen, China, which specializes in the production of toys and baby products and is certified ISO 9001- international quality standard.
The Battery within the Device
The battery in this device is a Lithium-ion Polymer 3.7V 200mAh, 0.74Wh, manufactured in, Lipol Battery, Shenzhen, China, www.lipolbattery.com, a high standard manufacturer, that operates under international standards; ISO 9001-2008, CE, UL, IEC 62133-2:2017, RoHS, MSDS, UN38.3, FCC, and other SGS Certifications. The battery is equipped with a protection circuit for controlling overcharging, and automatic cut-off when overheating. The battery was tested in Shenzhen BCTC Testing LAB and passed IEC62133-2:2017.
More Information About the Battery
User Device Experience
A simple and easy-to-use device is critical for the success of the Beta Trial.During participation in the Beta Trial, we will remotely update the product software and we will try together with you, different attachment methods on your baby's clothes. As mentioned, the product is made in the factory with injected plastic, but when we want to test new designs, we'll use 3D-printed parts to test prototypes and get your quick feedback.The polymer we use to produce the outer case is ABS, a common and safe material in the baby product industry. The ABS polymer we are using is a special grade and is approved for the manufacturing of toys and baby products which means it is free of harmful chemicals and heavy metals as defined in the RoHS directive (Restriction of Hazardous Substances directive 2002/95/EC). More information can be found at the following links:
Small Parts Regulation
This regulation prevents death and injury to children under three from choking, inhaling, or swallowing small objects. It includes toys and other articles that are intended for use by children under the age of three and might include small parts, or be broken into small pieces.A small part is any object that fits completely into a specially designed test cylinder 2.25 inches long by 1.25 inches wide approximates the size of the fully expanded throat of a child under three years old.We designed our device to meet this regulation, and we tested it in this cylinder as shown here​
No Harmful Transmissions and Radiation
The device is designed to collect data when it is not attached to the docking station. Only when the device is in the docking station does it charge the battery and transmit the data through your Wi-Fi network. Therefore, when the device is attached to the baby's clothing, it doesn't emit any kind of radiation.
Waterproof Design
The device is not waterproof yet. If at any time it needs to be cleaned, please use a wet cloth or wet wipes. Do not wash under running water.If the device comes into contact with any water immediately refrain from using it, contact us and we'll replace it.
​Charger Cable
Children have STRANGLED in cords!For your baby's safety, it is of the utmost importance that at no time is the baby left unattended with the cable.For your convenience, we added a 3 feet/1M long USB cable, however, this cable should be kept out of the reach of your baby, which means at least 3 feet/1M away. This will prevent the risk of strangulation.
Charging the Battery
The device uses a Lithium-Ion polymer battery, this type of battery, is very common and can get a little warm while charging and especially upon completion of charging. As mentioned above, the battery in your device has all the required tests and is safe to use. The charging process is controlled by the main processor in the device and together with the integral protection circuit in the battery, secures a safe process and prevention from overheating. However, if you touch the device while charging or when charging is completed, and it feels excessively hot, disconnect it from the docking unit, and let it cool.In case you have a doubt - there is no doubt - contact us, share your user experience with us and allow us to give you satisfactory answers.

Here are a few rules for safe charging:
Charge the device with the wall charger we supplied or a similar one. DO NOT use a wall charger from an unknown source or one that is uncertified.
When charging the device, avoid exposure to extreme temperatures, for example, next to a window with direct sunlight, or in a cold room. Charging in hot or cold conditions can also impact the battery life span of your device.
Keep all the contact points (4 golden dots and 4 golden pins) in the device and in the docking unit clean and dry.
Return All Parts at the End of the Use
The product in your possession is NOT a commercial product and may not be sold or transferred to any other user without written approval from LittleOne.Care.At the end of the clinical Trial and/or Beta Trial, you are requested to return the wearable device and any other parts you received during the period of the trial to LittleOne.Care's representatives.​Safety FirstTypically, the home environment is not isolated or sterilized, the device can get wet by liquids or food, it can fall into the water, or be chewed by your dog. The device was not designed to stand these events. If something happens and the device is damaged, stop using it, and contact us to replace it.
Question us
In any case where the device has undergone anything that it was not designed for, discontinue use and contact us for further instructions.IF THERE IS DOUBT - THEN THERE IS NO DOUBT. THE SAFETY OF YOUR BABY IS IMPORTANT TO US.In case this document is not clear enough, please contact us and ask for support.DO NOT SPARE OUR WORK.
‎