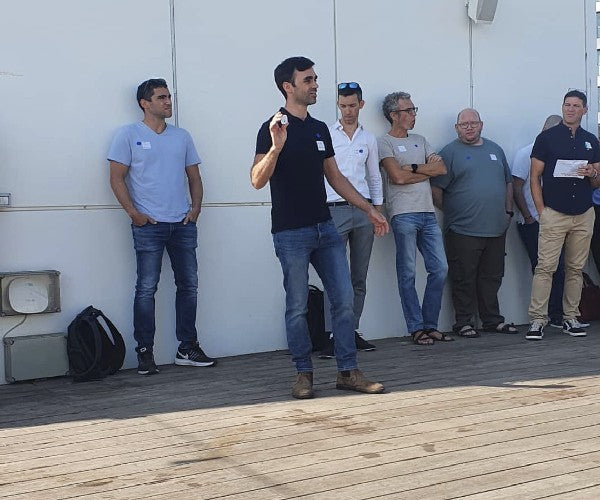 How Did LittleOne.Care Develop Its Device?
Understanding Our AI Development With Shauli Arieh
Do you want to know how LittleOne.Care developed its AI device? Do you want to know how this device is different from the rest? We interviewed LittleOne.Care's CEO and Co-Founder, Shauli Gur Arieh, who helped us better understand what makes LittleOne.Care so unique. After uni, Shauli worked in programming and managed projects and worked with engineers to create innovative technologies. After this job, he realized using his experience to improve the well-being of babies was possible. Together, with his friends, he established LittleOne.Care.
LittleOne.Care wanted to take the new capabilities of Artificial Intelligence (AI) to help babies and the next generation. Shauli explained that the first step in creating this device was to understand what is important in a baby's world. The best way to learn this information is from their parents. They started interviewing parents, consulting baby experts and went to daycares to understand the needed knowledge in this field.
LittleOne.Care always had four important values in mind during its establishment: baby Activities, quality of care, baby emotions, and the role of the caregiver. Questions, such as why is the baby crying, or what is the baby crying about were the company's top priority to answer. Above all of this, though, the most important aspect was to have an alert during potential emergencies: shaking the baby, baby not moving (etc.) Shauli understood that each of these tasks required an AI-based technology approach.
The common denominator for these four values entails that babies need to be understood.
Babies communicate through sounds and movements. LittleOne.Care wanted to use those particular sounds and movements to input and help create this device with these four values.
Parents want a product to fit their safety protocols: no radiation and privacy. No product is currently understanding the sounds of the baby without any radiation. LittleOne.Care will help you understand your baby without harming your baby. Help us create a voice for the next generation.