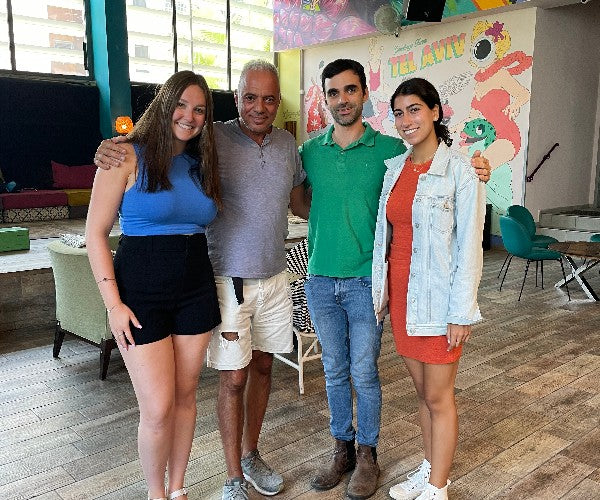 Thank You, Tel Aviv
Reflecting on My Internship at LittleOne.Care
As soon as I had my interview with Ami Meoded, I knew LittleOne.Care was special. When I landed in Israel, the "start-up nation," I was thrilled to join such an innovative and passionate team. Immediately, the team welcomed Olivia Sakhai and me into the LittleOne.Care family with open arms, and we were ready to jump into work.
I quickly realized the Israeli work culture, especially the Israeli startup work culture, is unlike anything I have ever experienced. As someone who is used to having a routine, I had some difficulty adjusting to the flexibility that comes with working for a startup. Nevertheless, I slowly got used to the organized chaos and fell into a new type of routine: no routine. I realized that what makes startup culture so exciting is that each day is different from the day before. This summer, I dug deeper into my creative juices and explored topics that interested me.
Working for an Israeli startup is one thing but working with Ami Meoded is a completely different story. Ami's excitement and passion for LittleOne.Care is inspiring and has motivated me to pursue entrepreneurship. He has taught me so much about marketing, running a business, and, most importantly, babies! Ami once told me that good marketers can sell snow in the middle of a New York winter. In other words, Ami has shown me that nothing is impossible if you are dedicated enough and put in the effort. I would also like to thank Shauli Gur Arieh for being such a great mentor and friend.
Coming to Israel on my own and living in a foreign city for two months was an overwhelming decision, but it was the best decision I have ever made. I have learned so much about myself in such a short time. Without a doubt, this summer has changed my life for the better. I have met incredible people, eaten delicious food, and watched more beautiful sunsets than I can count. LittleOne.Care has taught me not to take life too seriously, to keep my young spirit alive, and, most importantly, to pursue what I love and my passions.
I cannot wait to watch this company continue to grow, develop, and thrive because I truly believe that giving babies a voice is essential.
Thank you, LittleOne.Care.